June 2011.
As I wrote in Part I, on May 23, 2011 the Belarusian ruble was devalued by 56%. The next day, people are faced with the fact that prices have increased by 2 times. It was very unpleasant. I understand business, who thus tried to survive, but to ordinary people was even harder. It was at that time prohibited the restriction is entered on the export of fuel. The fact that the enterprising people bought gasoline and sold it to neighboring countries. Also introduces a restriction on the export of sugar, cigarettes, oil and other commodities. Interestingly, in Russia it was possible to remove anything and in any quantity.
June 7 sharply increased in price fuel. On that date it was known in advance and on that day (June 7), the incredible happened: for the first time many people began to be active. Exactly at 19.30 on the main streets of Minsk motorists stopped the machine and started beeping. So that the police did not arrest cosignatories shares, drivers went on tricks. For example, exhibited a sign that the machine is in urgent need of repair, the car will not start and so on.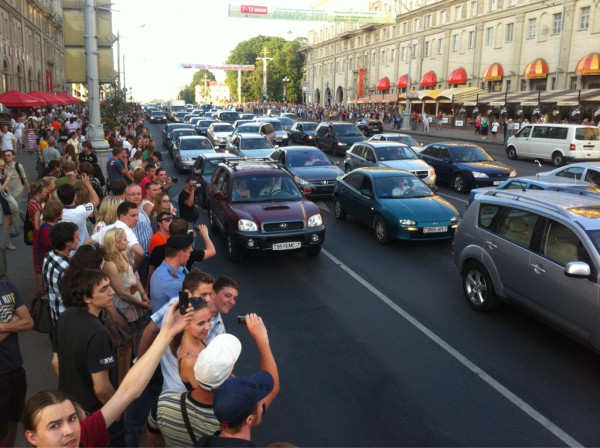 The protest begins in June. People just get together and clapping. And for that, many were arrested. People gather every week on Wednesday evenings. In such actions occurred so many people.
Also in June, it became known that the government decided to support the people and to pay teachers, doctors and other state employees a one-time assistance. At the same time, President told to severely deal with those Belarusians who are leaving to work abroad (mainly in Russia). He said that such people should pay more tax. However, this proposal had remained just words.
July 2011
. Probably the most important event this month was the fact that the National Bank of eyed leadership. The former head of the bank suffered a heart attack, heart surgery and was relieved of his post for health reasons. I am sincerely sorry for him: he was trying to do everything possible in this difficult situation, he darted between two fires. Silent action continuous, but occurred less and less people. Police tried everything possible to prevent the holding of such shares.
August 2011.
In August, disappeared from store shelves meat. In principle, all the summer residents of Russia to come to Belarus and buy up everything: they were sent on mission our products are very cheap, but we, Belarusians, could no longer afford to buy them. In Gomel there was a lot of cars with Russian car numbers, Belarusians were very unhappy that the Russians are buying products, but the confrontation never took place, fortunately. It became impossible to buy a currency: exchange offices were closed in the markets, in shops. Currency can be bought only if a person wrote a statement that the money he needs, for example, for treatment, payment for study abroad. Money in these cases were transferred to the account of nursing home or university, man in the street could not get the cash.
That same month, becoming more expensive utility rates.
September 2011.
Commodity prices continue to rise. So that people are not impoverished, the government decided to pay all the inhabitants of the country's 500,000 to buy vegetables for the winter. First day of paid w pensioners, the CCA as the basic electorate. I got the money in October.
October 2011.
Banks refuse to give loans to individuals and, if given, under the huge interest. at this time I decided to take the credit 4 million rubles.In the bank a girl told me that I would pay 10 million. I did not take the credit, I just would not be able to pay it.
October 20 the Belarusian ruble has been devalued by 52%. And again the next day, prices rose. I well remember the shops were closed for inventory: at this time hastily rewritten price tags on goods.
November 2011.
This month, once again more expensive public transport, prices continue to rise. The government is trying to take measures to contain the crisis and to some extent, he succeeds. It is true that our president continues to believe that there is no crisis in the country do not. (((In the currency exchange offices there, you can buy on the passport.
December 2011.
Russia agreed to help Belarusian money. Despite this, people are tired of promises, tired of rising prices. But no one goes out to the streets, no protests, because it is meaningless.
Results of the crisis:
The population of Belarus is almost impoverished. Prices for the year rose by three to four times.
The devaluation of the ruble was 189%
. Belarusian economy has been granted the status of "hyperinflation."
Today the situation is this: prices continue to rise, but much more slowly, not more than 7% per month. For example, today's sugar went up, from July 1, becoming more expensive cigarettes. At the same time people stopped urgently respond to higher prices: a panic, which was the spring of 2011 was observed.
Now the most important:
On May, 1 I have raised wages. And in September of this year we have elections to parliament. As I wrote all salary increases before the election in Belarus. It happened this time: in the press there were reports that the salary will be increased again from August 1. We went out on a new round of crisis?