The symbol 1.
Vostraya Brahma.
This is a large stone gate in Vilnius.
They were built in the early 16th century.
Vilnius was the capital of the Grand Duchy of Lithuania (the ancient Belarusian and Lithuanian state).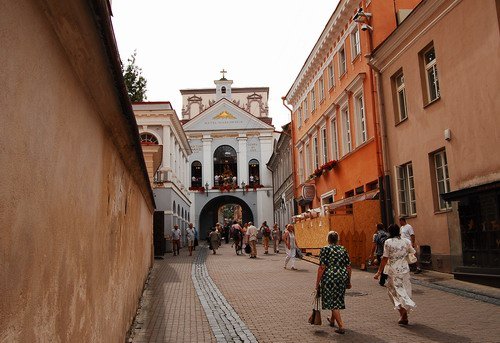 No one knows why these gates have that name.
There are many theories about the origin of the name of the gate.
Why are these gates were simolom Belarus?
The Holy Icon of the Lithuanians and Belarusians posted on these gates.
This is the icon "Matsi Bozhaya Vostrabramskaya."
It is considered the defender of our people, it protects people from harm and sorrow, bestows grace and salvation.
In Lithuania and Belarus, there are so many churches and chapels, which contain copies of the holy icons.
The symbol 2.
The old coat of arms "Pagonya".
It is an ancient emblem of Belarus, he was also the emblem of modern Belarus from 1991 to 1995.
It is also the emblem of modern Lithuania.
The coat of arms you see a rider who is racing with a sword in his hand.
He also has a shield, which depicts a cross.
First it was the prince's coat of arms, but with time it became the emblem of the Grand Duchy of Lithuania.
The Grand Duke Sigismund Avrust ordered to print coins with the emblem "Pagonya" from 1562.
In 1918, "Pagonya" has become the emblem of the Belarusian People's Republic.
In the difficult times of war, this flag was used by Belarusian collaborators, which decided the fate of "Pagonya".
The Supreme Council of the Republic of Belarus of December 10, 1991 approved the "Pagonya" as the emblem of the Republic of Belarus.
May 14, 1995 at the initiative of Belarus Alexander Lukashenko held a referendum on the results of the referendum "Pahonya" was deprived of the status of the state emblem.
Since then, the flag used by the Belarusian opposition.
I am very far from politics, I do not like the fact that politics divides people.
I believe that Brahma, Vostro, and "Pagonya" - is equal symbols of Belarus.
Unfortunately, these characters do not know today's youth, it is very bad.