How this event is taking place in Belarus? Probably the same as in other states.
It all starts in a few days before the celebration. First held a parade rehearsal. From across the country are delivered a military equipment and the best soldiers.
Evening of July 2 at the main monument of the country (on Victory Square in Minsk) is laying a wreath to the fallen soldiers. In a solemn and a little sad situation is this ceremony. Veterans sit on the chairs (they are already very old and can not long stand on its own).
At the ceremony, there are the ambassadors of various countries. Ends with laying of wreaths at a moment of silence and the national anthem.
The main celebration begins in the morning on July 3. at 10:00 on all Belarusian TV channels live broadcast begins parade. At the parade there is the entire leadership of Belarus. Along the main street of Minsk are soldiers, military vehicles drives, fly planes in the sky. It's probably very nice.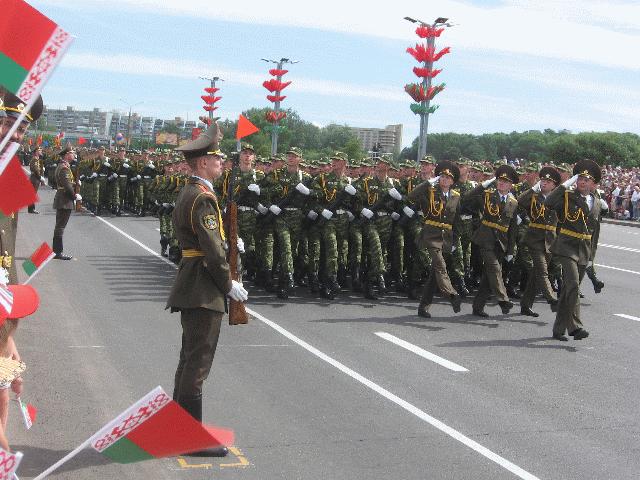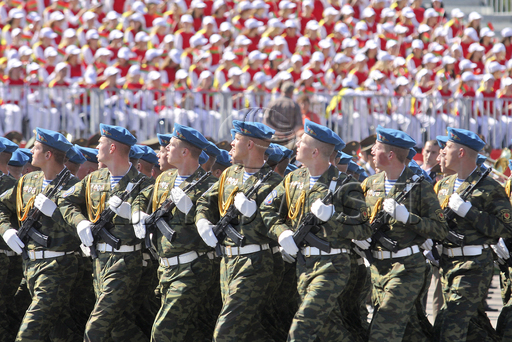 I do not watch the parade, if only briefly. I do not like a magnificent celebration. As I wrote before, I do not like the fact that in our country, a holiday associated only with the second world war. These days there is nothing on TV to watch broadcasts only films about the war, or holiday concerts.
Indeed, movies about the war needs, the new generation should not forget what happened in 1941-1945. But when all TV stations from year to year, from 1 to 3 July (and even before that, and May 8-9), broadcast the same film, it begins to pall. So these days I hardly watch TV.
Returning to the celebration of Independence Day. After the parade, a celebration is moved to the area streets. On the streets of every city in this day traders put their tents, where you can buy a snack.
By evening, the celebration reaches its climax: after the obligatory concert with participation of Belarusian musicians, singers, groups at exactly 22:00 in the Sun ex cities fireworks begin.
I remember that before went to watch fireworks in the town square. Now I look at it from the window of his house: all the action unfold right in front.
Tomorrow, that is, today, in my city is very beautiful: even hang holiday decorations, balloons, flags. Tomorrow the city will be crowded. But I feel a little sad because the main state holiday for some people to become a bargaining chip in political games. It should not be. The holiday should unite people, not divide them into two camps.