I want to tell you about the amazing town Navabelitsa. You will not find this town on any map. But there it is, people live and work in it, the children go to school, they watch new movies in the cinema, go shopping in stores.
At the entrance to Navabelitsa
Navabelitsa is part of Gomel for over a hundred years. But residents still say they live in another city, not in Gomel.
Сoat of arms
In 1777, on the site of the city only a few people lived. Russian Count Rumyantsev, who owned Gomel, did not want to share it with the city officials. He ordered the construction of a new city to manage its lands across the river Sozh. And there was a city called New Belitsa. In this city lived less people than in Gomel, but New Belitsa ran Gomel. Soon a new city received its coat of arms: a golden lynx on a blue background.
3D picture near Mir Cinema, Navabelitsa. Summer 2012
In 1852 Gomel was acquired Paskevich. He ordered the government to move from New Belitsa Gomel and transfer of arms. Since that time New Belitsa became part of Gomel. In 2012 it celebrated its 225 anniversary.
To get to Navabelitsa you have to move on two bridges over the river Sozh and highways.
Navabelitsa has a good transportation network with the rest of Gomel: trolleys, buses and taxis.
Ilyich Street
Every day thousands of people go to the center of Gomel from work, school. 50,000 people live in Navabelitsa. This is about a tenth of the total population of Gomel.
Dimitrova street
I worked in Navabelitsa before. I taught in a school for two years.
School 4 in Navabelitsa where I taught
I love this part of Gomel. It really looks like a separate city with its own rules and traditions.
Town Hall
Mir Cinema
Organ grinder
Very beautiful architectural buildings of the 20th century are preserved in Navabelitsa. They are located in the city center.
Ilyich Street
Navabelitsa residential buildings can be divided into three types. The first type is the private homes of wood and brick. Such buildings occupy most Navabelitsa.
The second type is the building of the Soviet period. They were built in the years 1960-1970. They are the usual five-story brick buildings with small balconies. This buildings are located in the central part of Navabelitsa.
Ilyich Street
Ilyich Street
The third type of building is a modern apartment block. They are represented by high-rise buildings (from 9 - 20 floors). These buildings are located in the south Navabelitsa.
Navabelitsa called "The Green town": there are plenty of parks, alleys and lakes.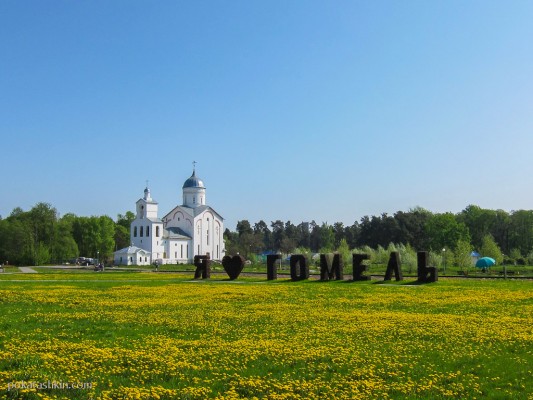 I love Gomel
Navabelitsa
In the south Navabelitsa rises to a pine forest. In this forest health center is located. People go across the whole country to this place. Therapists help Chernobyl victims at the center.
If you get to Gomel, you should see Navabelitsa. By the way this city is called the Belarusian Vatican. This is really a city in a city. You must see it with your own eyes!
Family umbrella
Christmas decoration on the building of a factory in Navabelitsa
Park in Sevastopolskaya street, Navabelitsa