This salad is an integral part of the Belarusian New Year's table since the Soviet era.
It has been known since the 19th century. Its author was a chef Lucien Olivier. He has worked in the best restaurant in Moscow. Salad quickly became popular among restaurant guests.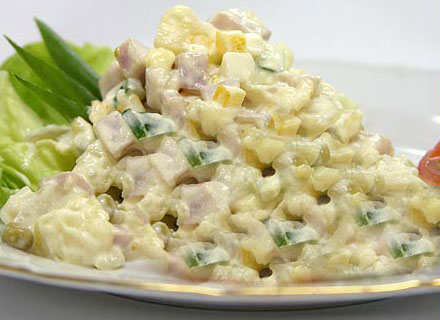 Recipe has changed several times during the century and a half. Originally salad ingredients were 2 grouse, veaickles, soy, half a tin of Kabul, two fresh cucumber, a quarter pound of capers, 5 hard-boiled eggs.
In the era of the Soviet Union, a set of salad ingredients has undergone significant changes. there are only 7 components. It is in this form, this salad has become a favorite holiday table decoration. Salad "Olivier", many associated with the New Year. Because more often than women did this salad just for New Year's table (in Soviet times it was hard to buy the most important ingredient in salad - canned green peas. It sold just before the New Year).
You can learn the recipe of the "Soviet" version of salad and cook it.
The products:
Boiled potatoes 4 pieces.;
boiled sausage or chicken - 250 g
boiled carrots - 1 piece.;
hard-boiled eggs - 4 pieces. ;
pickled or fresh cucumbers - 4 pieces;
green peas (canned) - 400 g
onion - to taste.
1. Boil the eggs.
2. Cook the chicken.
3. Boil the potatoes and carrots.
4.
Peel
eggs and cut into cubes.
5. Peel potatoes and cut into cubes.
6. Boiled chicken breast cut into cubes.
7. Cucumbers cut into cubes (if you take fresh cucumbers, you will need to remove their skin).
8. Mix all ingredients.
9. Season salad with mayonnaise.
Bon Appetit!